LR SERIES VIBRATORY ROUND BOWL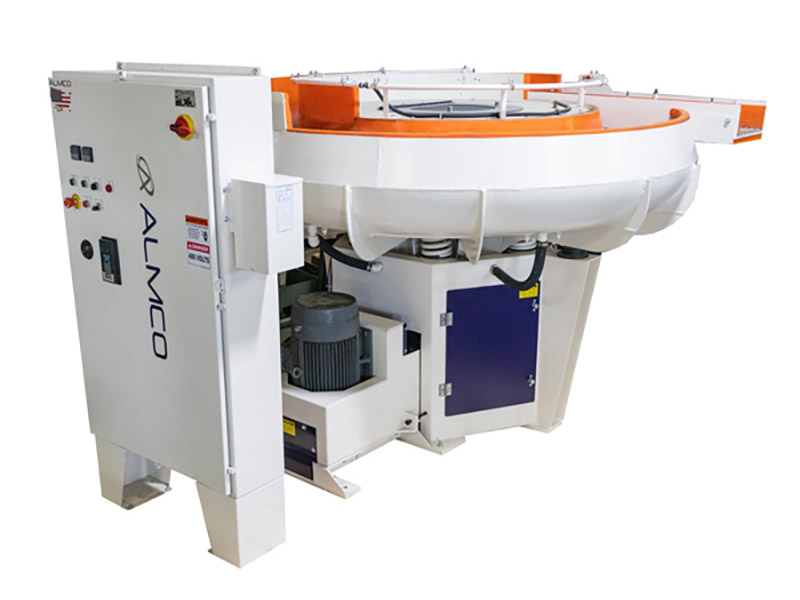 This long radius tub (versus cross-section) is useful for through-feed operation where the part is loaded near the discharge screen and is unloaded after making one pass around the tub. It may also work better for delicate parts or long, narrow parts. The LR Series includes a built-in internal separation system for batch processing.
When parts and abrasive media are placed into the flat bottom bowl, its vibrating action causes millions of small collisions between parts and media, resulting in the removal of material along part edges and corners. A mixture of water and finishing compound washes away residual particles, resulting in a clean, smooth finish.
| Model No. | Working Capacity (Cu Ft.) | Channel Cross Section (In) | Drive HP | Overall Dimensions (In) |
| --- | --- | --- | --- | --- |
| OR-5VLR | 4.2 | 8.25 | 3 | 54 x 54 x 36 |
| OR-9VLR | 7.6 | 10 | 5 | 80 x 66 x 44 |
| OR-16VLR | 15.2 | 12.5 | 10 | 96 x 84 x 50 |
| OR-25VLR | 25.7 | 15 | 20 | 98 x 98 x 66 |
| OR-40VLR | 38.8 | 17 | 25 | 144 x 144 x 78 |