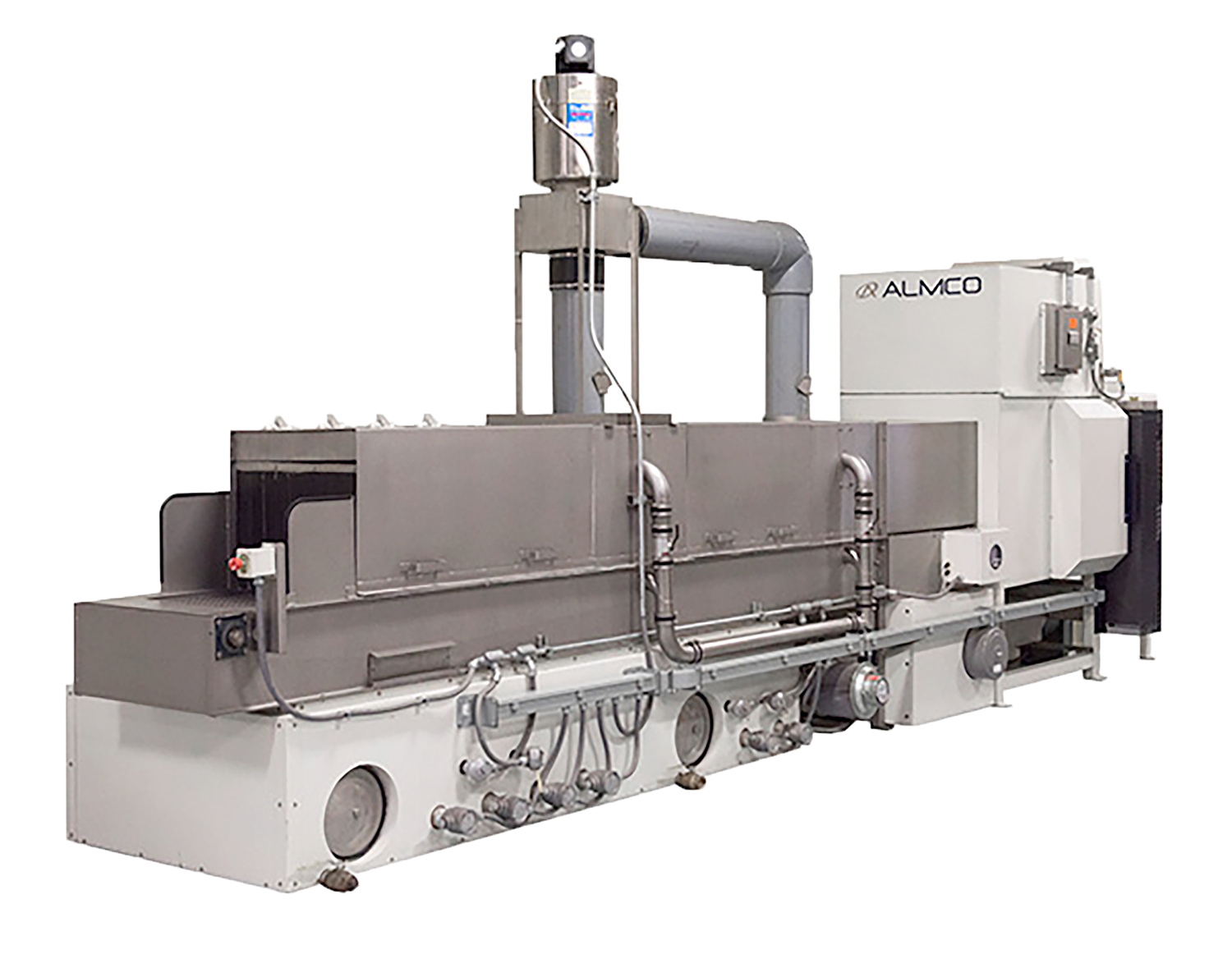 Features:
Multiple process stages configured for your application
Variable speed, stainless steel conveyance system
Removable stainless-steel chip tray in wash
Adjustable spray nozzles for 360-degree coverage
Heated wash and rinse tanks.
Options:
Insulated wash and rinse tanks
Vapor exhaust system
Stainless steel filtration units
Oil skimmer or coalescer
Large variety of belt materials and widths
Automatic water and compound replenishment
PLC and touch screen controls
UL 508A Electrical Controls: UL® 508A is an Underwriters Laboratories directive for components and wiring practices as they pertain to industrial control panels.
Standard belt sizes: 12″, 18″, 24″. Custom sizes available.
Do you need the ability to clean high-volume parts and need that process to be multistage? Then the inline washer is for you. Inline washers provide continuous, flow-through operation with wash, rinse, and blow-off. Rust inhibit and drying sections are also available. The belt may be a standard flat wire belt, rod belt, mesh covered belt or chain drive for moving parts directly or onto pallets or tombstones.
Many belt styles and widths are available, and the machines can be 100% custom designed for your application.
| Belt Width (In) | Standard Working Tunnel Height (In) | Standard Wash/Rinse (Gal) | Wash/Rinse HP | Standard Blow Off HP |
| --- | --- | --- | --- | --- |
| 6 | 3-6 | 135/105 | 2 | 5 |
| 9 | 4-9 | 150/115 | 2 | 5 |
| 12 | 4-12 | 185/125 | 3/2 | 10 |
| 18 | 6-15 | 290/145 | 3/2 | 10 |
| 24 | 6-18 | 330/165 | 5/3 | 10 |
| 30 | 12-18 | 370/185 | 5/3 | 10 |
| 36 | 12-18 | 410/205 | 5/3 | 15 |
| 42 | 12-18 | 450/225 | 7.5/5 | 15 |
| 48 | 12-18 | 495/245 | 7.5/5 | 15 |
| 54 | 12-18 | 535/265 | 10 | 10 |
| 60 | 12-18 | 575/285 | 10 | 10 |