VM SERIES VIBRATORY ROUND BOWL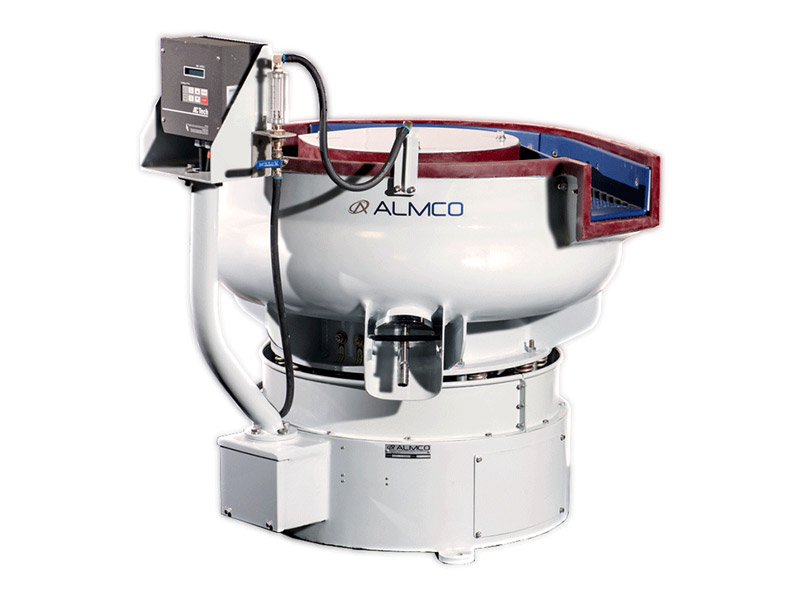 Compact, Space-Saving Footprint
The VM Series (VibeMaster Series), compact, stat-of-the-art, high-energy vibratory bowl features an extended screen deck plus a low-profile, curved wall construction. A heavy-duty motor and integral inverter/controller deliver flexible operation with excellent overall machine performance, reliability and efficiency all within a compact, space-saving footprint.
The VM Series Vibratory Round Bowl can be delivered in as little as 2 weeks.
How It Works
When parts and abrasive media are placed into the spiral bottom bowl, its vibrating action causes millions of small collisions between parts and media, resulting in the removal of material along part edges and corners. A mixture of water and finishing compound washes away residual particles, resulting in a clean, smooth finish. All manual process. Parts may then be discharged from the bowl by a parts/media separator screen, which allows the media to fall back into the bowl.
Features
Wet or dry processing capabilities
Space-saving, low-profile design for easy load and unload
Curved polyurethane-lined bowl for maximum finishing action
Extended screening deck for more effective parts & media separation
Variable speed motor for process flexibility
Options
| Model No. | Working Capacity (Cu Ft.) | Channel Cross Section (In) (In) | Drive Motor HP | Overall Dimensions (In) |
| --- | --- | --- | --- | --- |
| VM-1 | 0.5 | 5.25 | 1/10 | 17 x 17 x 28 |
| VM-3 | 3 | 8.5 | 1.5 | 47 x 47 x 35 |
| VM-5 | 5.3 | 10.2 | 2 | 54 x 52 x 43 |
| VM-10 | 10.6 | 12.8 | 3 | 65 x 62 x 43 |