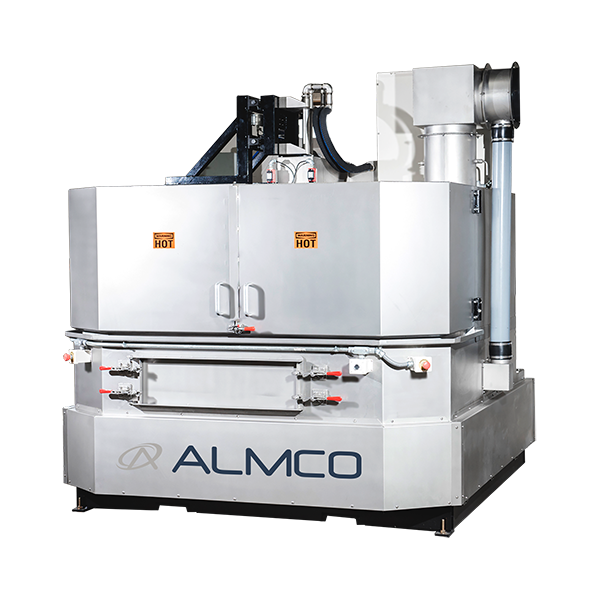 Features:
Heated wash tank
Float switch for heater protection
Standard 230V or 460V power source (380V or 575V optional)
Six standard turntable sizes from 18″ to 72″. Custom sizes available
Process timer for each wash cycle
Safety interlock switch on lid & doors
Rinse & blow-off stages may be added
Removable stainless-steel chip tray in wash
All stainless-steel construction
Variable speed, stainless steel turntable/platform
Vapor exhaust duct connections
Options:
Bag filter system
Stainless steel bag filtration units
Rinse and blow-off stages may be added
Oil skimmer or coalescer
Insulated wash and rinse tanks
Vapor exhaust system
Automatic water and compound replenishment
PLC and touch screen controls
UL 508A Electrical Controls: UL® 508A is an Underwriters Laboratories directive for components and wiring practices as they pertain to industrial control panels.
The RCW series features a front swing door that opens a full 180 degrees, allowing parts to be loaded by hand or via hoist onto a turntable. During the cycle the turntable rotates the part or basket to expose all sides to the spray and blow-off nozzles. These washers are versatile machines that can handle a wide variety of part sizes and shapes.  In addition, there are simple controls that allow for multiple wet and drying stages if needed.
| Turntables Diameters (In) | Standard Inside Cabinet Height (In) | Standard Wash/Rinse (Gal) | Wash/Rinse HP | Standard Blow off HP |
| --- | --- | --- | --- | --- |
| 24 | 30 | 50/50 | 2/1 | 5 |
| 30 | 36 | 75/50 | 3/1 | 10 |
| 36 | 50 | 100/50 | 5/1 | 10 |
| 42 | 50 | 125/50 | 5/1 | 10 |
| 48 | 50 | 110/50 | 7.5/2 | 15 |
| 60 | 50 | 160/80 | 10/2 | 15 |
| 72 | 50 | 220/110 | 10/2 | 20 |