CENTRIFUGAL BARREL FINISHING MACHINE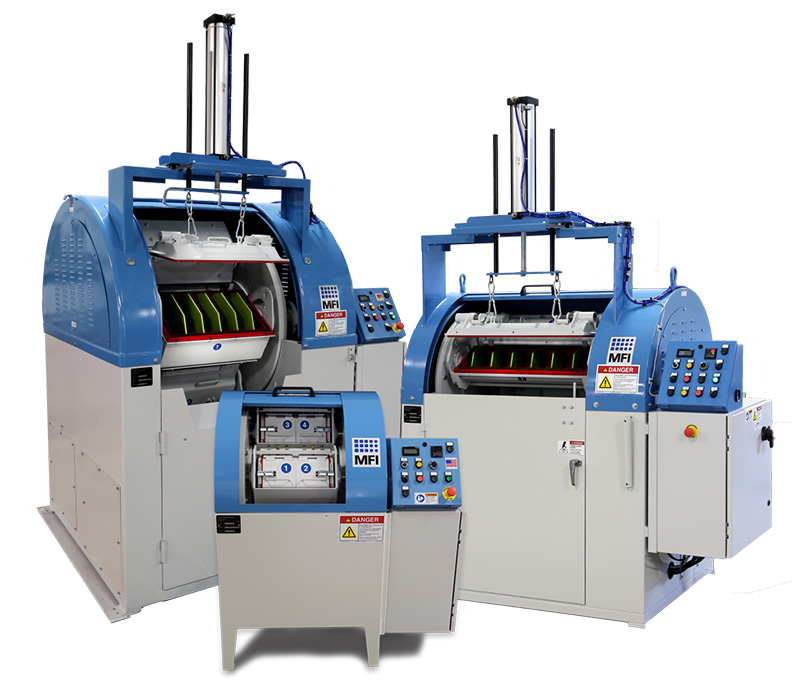 Features:
Variable speed drive for process flexibility
Four to eight removable barrels on 40 liter and smaller unit
Fixed barrels with barrel rotation motor on HZ-60 and larger unit
Two button turret jog requirement for safety
Safety interlocked doors during processing
Semi-automated cover removal system
¼" Thick hot-poured, removable barrel liners
Eight standard size units available
Options:
Centrifugal Barrel Finishing (CBF) systems offer high-energy, high-speed surface deburring and parts polishing. They feature four hexagon shaped barrels that rotate on a drum in a planetary motion at a one-to-one ratio.  From jet engine blades in the aerospace industry to heart valves and medical implants, these tumbling machines are versatile and money-saving solutions for polishing and deburring.
CBF systems are often referred to as high-energy solutions because they apply a force of 10–12g on media and parts. The system can use virtually any type of media and can both deburr and polish parts. Surface finishes of less than 1 Ra can be achieved. Barrels can also be divided to separate individual parts to eliminate impingement.
| Model No. | Working Capacity (Cu Ft.) | Tank Capacity (Liters) | Barrel Size | Drive HP | Overall Dimensions (In) |
| --- | --- | --- | --- | --- | --- |
| HZ-12 | .42 | 12 | 8.375″ L x 5″ Diam. | 1 | 34 x 30 x 55 |
| HZ-40 | 1.4 | 40 | 12.5″ L x 6.875″ Diam. | 3 | 47 x 38 x 49 |
| HZ-60 | 2 | 56 | 25.75″ L x 5.875″ Diam. | 5 | 68 x 39 x 94 |
| HZ-85 | 3 | 85 | 33.5″ L x 6″ Diam. | 7 | 75 x 39 x 94 |
| HZ-120 | 4.7 | 133 | 17.25″ L x 10.25″ Diam. | 10 | 71 x 57 x 75 |
| HZ-160 | 7.1 | 200 | 20.75″ L x 12″ Diam. | 15 | 89 x 40 x 90 |
| HZ-220 | 8 | 227 | 27.5″ L x 11.5″ Diam. | 15 | 81 x 57 x 75 |
| HZ-330 | 12.8 | 362 | 42″ L x 12″ Diam. | 30 | 90 x 56 x 80 |