SPINDLE DEBURRING SYSTEM FOR COMPLEX PARTS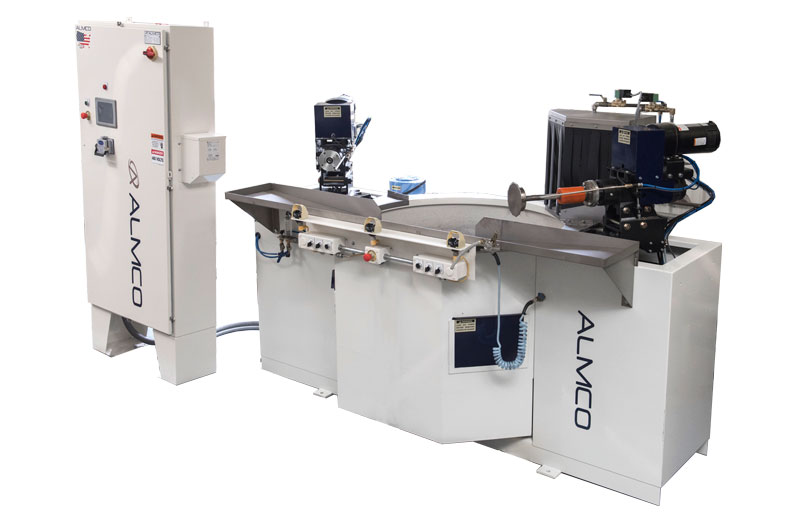 Features:
Repeatable load and process positions allow for easy integration with robotic production lines.
Easy to use operator touch screen controls (standard on "RA" models only).
Spring-hold air-release tooling holds part to spindle.
Variable speed tub featuring a perforated drain section for the removal of liquid sludge from the media.
Adjustable part positioning for optimal process results.
Available in eight different models.
Options:
Spindle deburring systems or slurry finishing machines are idea for deburring complex parts, including gears, bearing cages, splined shafts, pump rotators, jet compressor discs and blades and more. This high-speed, precision deburring machine can finish single parts on each of its two spindles or several smaller parts on fixtures. The machine holds the part(s) on rotating spindles that are lowered into a rapidly moving tub of abrasive media. The most common abrasive media used is a fine, granular aluminum oxide. Other choices for media are pre-shaped plastic, ceramic, steel, corn cob and walnut shell. The abrasive media swiftly flows over the part(s) as it rotates in the tub removing sharp edges and improving surface finishes. The media moves at up to 1000 surface feet per minute past the part. This is a very aggressive process and cycle times are often less than one minute per part, per spindle. The process is very repeatable, and these machines are often used for high-precision components. These machines are custom configured to meet individual customer's requirements.
| Model No. | # of Spindles | Tub Diameter (In) | Maximum Part Diameter (In) | Max Tub Speed (SFM) | Tub Drive (HP) | Overall Dimensions (In) |
| --- | --- | --- | --- | --- | --- | --- |
| S2-30 | 2 | 30 | 2.5 | 2000 | 5 | 55 x 38 x 55 |
| S2F-36 | 2 | 36 | 6 | 1000 | 7.5 | 112 x 56 x 65 |
| S2F-48 | 2 | 48 | 16 | 900 | 10 | 120 x 64 x 65 |
| S2F-48CRA | 2 | 48 | 16 | 900 | 10 | 120 x 75 x 65 |
| S2F-48DRA | 2 | 48 | 8.5 | 900 | 20 | 120 x 75 x 75 |
| 1SF-48 | 1 | 48 | 30 | 900 | 15 | 92 x 123 x 93 |