ROTARY DRUM PARTS WASHERS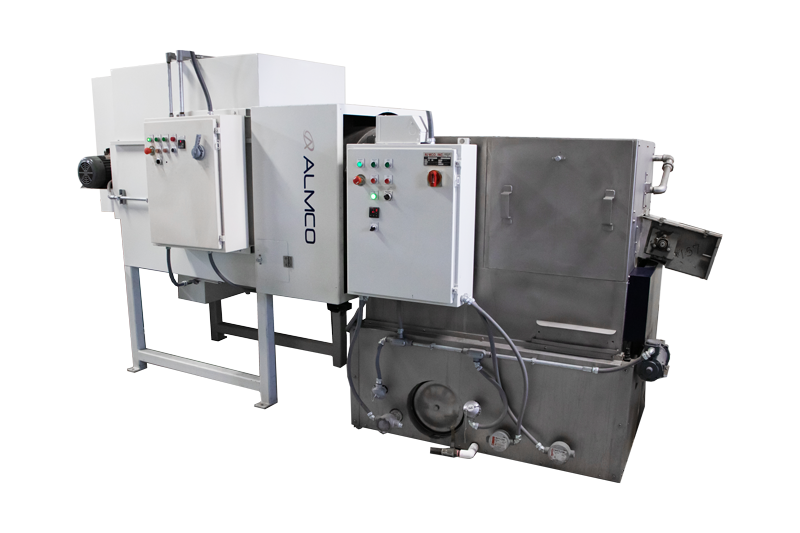 Features:
Multiple process stages configured for your application
Stainless-steel construction
Variable speed drum with sizes from 18″ to 36″ diameter
Processing drum with continuous weld on both sides of helix
Removable stainless-steel chip tray in wash
Heated tanks
Float switch for heater protection
Options:
Bag filtration system (mild steel or stainless steel)
Oil skimmer or coalescer
Insulated wash and rinse tanks
Vapor exhaust duct connections and vapor exhaust system
Automatic water and compound replenishment
PLC and touch screen controls
UL 508A Electrical Controls: UL® 508A is an Underwriters Laboratories directive for components and wiring practices as they pertain to industrial control panels.
Rotary Drum Parts Washers are ideal for washing high production volume parts. These rotary drum washers can accept parts in batches or continuously for large part runs. As the parts are fed through the drum, they may pass through various soak, spray wash, drain, and spray rinse sections. Rust inhibit and drying sections are also available. The spiral spacing and height is determined by the parts being washed. There are many drum material options making this type of washer ideal for small parts that would be difficult to wash in a belt, cabinet or agitation washer. Stamped parts, fasteners, and ammunition are just some of the applications that utilize rotary drum washers.