What You Need to Know Before Buying Any Industrial Parts Finishing Equipment
Selecting the right industrial parts finishing equipment can be a complicated process. Explore the finishing options available with the industry with our white paper: What You Need To Know Before Buying Any Industrial Parts Finishing Equipment.
EFFICIENT METAL FINISHING SYSTEMS WITH HIGH QUALITY RESULTS
ALMCO metal finishing systems come in many different styles with each having its particular advantage, all depending on your individual project requirements. Our machines are known for their perfect metal finishing capabilities.
ALMCO is continually developing its industrial finishing capabilities to perfection. The experts at ALMCO truly are finishing artisans, especially in metal finishing. We work hard to keep our clients' machines working in tip-top shape, so a perfect finish is always possible.
Not all metal finishing systems are built the same. At ALMCO, we specialize in engineering everything from vibratory bowls and tubs to spindle finishing machines. This range gives us the ability to provide custom-fit solutions to a wider range of clients.
Our extensive laboratory offers you the opportunity for no-charge process development, including specific parts finishing equipment, and media and compound recommendations. Just fill out our Sample Processing Request Form or see below for specific details on your finishing needs.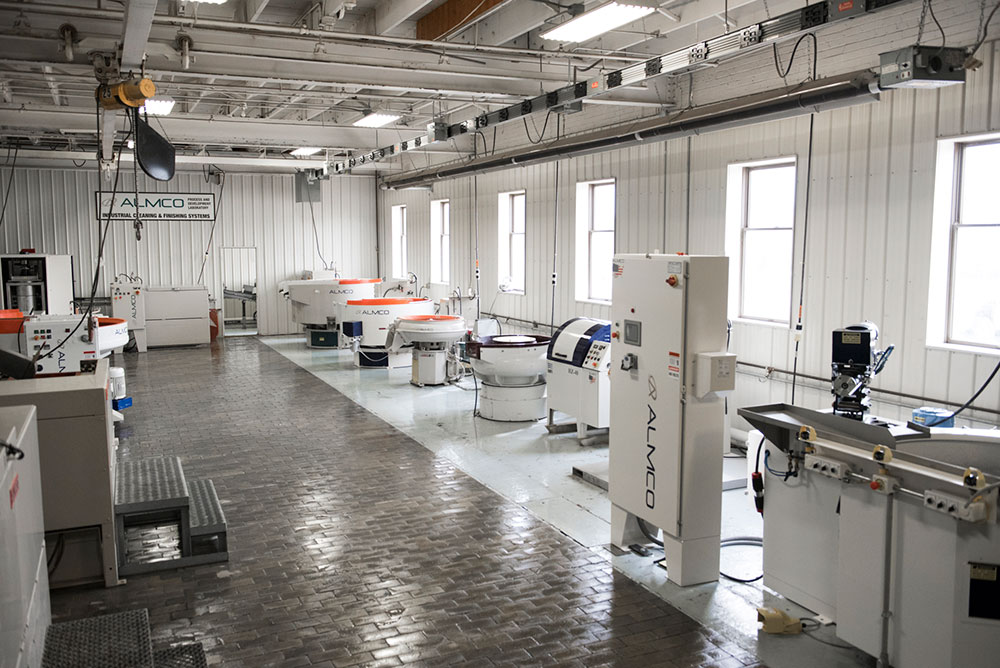 METAL FINISHING EQUIPMENT
Aggressive, spindle-finishing units with the capability of finishing many types of parts.
Durable tumbling unit designed to finish batches of parts or larger individual parts.
Gently used demonstration units, tradeshow equipment and refurbished equipment.
WATCH OUR METAL FINISHING SYSTEMS IN ACTION
In the CFT Series, the spindle does all the work, and the part rotates at a high speed and at various angles within the tub of vibrating media.
ALMCO OFFERS A COMPLETE LINE OF FINISHING MEDIA