What You Need to Know Before Buying Any Industrial Parts Finishing Equipment
Selecting the right industrial parts finishing equipment can be a complicated process for both seasoned and first-time buyers. With a variety of machines available, it can be difficult to know what type of equipment will give you the results you're looking for.
This whitepaper explores some of the important considerations like part geometry, part size, material composition, finishing needs, and production volume and time requirements to help you determine what industrial parts finishing equipment is right for your application. It also sheds light on five different types of industrial finishing equipment, what they are best used for, and how these systems work.
To request a quote or learn more about what industrial parts finishing equipment ALMCO offers, call 800-521-2740 or email sales@almco.com.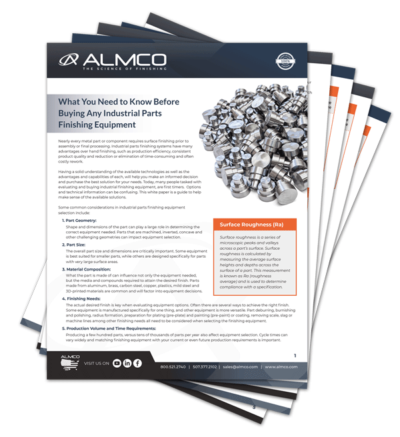 Download this free resource:
*The whitepaper will be sent to the email provided upon submission.